A Charming Wall Quilt for Music Lovers
|
Make One for Yourself and One to Give!
Music lovers in your life will enjoy this charming little quilt. Make one or more to give as special gifts. It's perfect for a beloved music teacher, dedicated students and anyone who enjoys music.
Select fabrics in colors you know the recipient will love. Three fat quarters are all you'll need.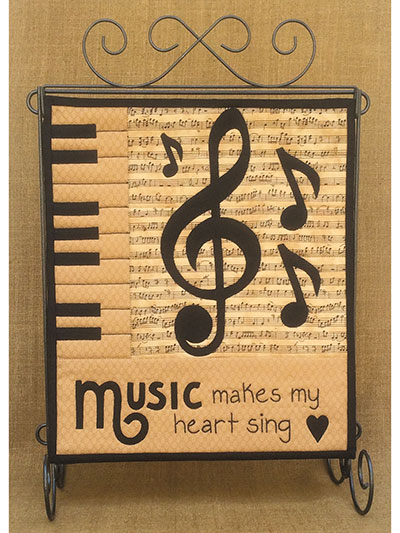 You may need to hunt a bit to find the sheet music fabric, or make your own.
I made my own music fabric by scanning a piece of sheet music and printing it onto a beautiful beige/gold batik. I love the way this turned out.  – Patricia H.

Easy piecing, applique and a bit of embroidery are a breeze to complete. You'll have this lovely little quilt finished up in no time.
It will be charming hung on the wall. Quilt stands are also available.
The finished mini quilt is 12″ x 14″. 
Save