A Fun and Festive Quilt for Thanksgiving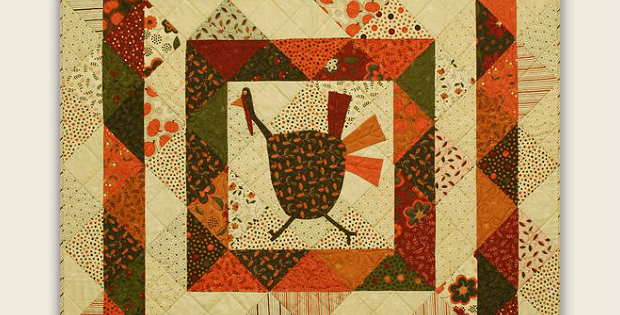 |
Use the Center Block for Other Projects Too!
Mr. Turkey is running for the hills, making this humorous quilt perfect for Thanksgiving. Display it on a table or your wall for a fun touch for the holiday.
The body of the quilt is simple patchwork and a breeze to stitch up. The turkey can be applied with fusible applique.
We can also imagine the center square with Mr. Turkey made into place mats or a table runner.
The pattern specifies pre-cut triangles (turnovers) but can be made from yardage and other pre-cuts found in your stash.
The pattern, by Sandy Gervais, is for a 44″ x 44″ quilt.
Save