A Rainbow of Colors Make a Lovely Runner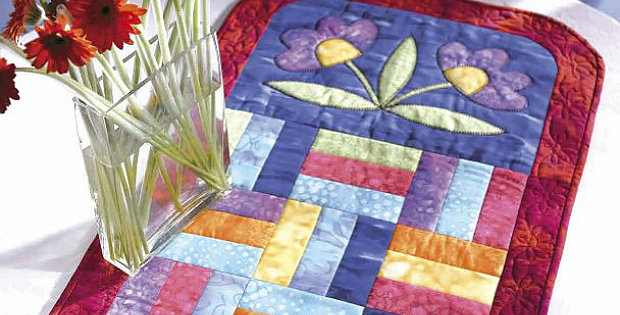 |
This Simple Little Quilt is An Easy One to Make!
Easy Rail Fence blocks and a bit of pretty applique make a lovely runner to display on a table or elsewhere in your home. A rainbow of mottled fabrics make it an eye-catching accessory you'll love to display.
Other fabrics will be lovely too, and in just about any pleasing color combination. We can easily imagine this made up in spring pastels, rich fall colors and even in Christmas fabrics.
Fusible appliqued flowers and rounded ends make the runner seem harder to make than it actually is. Beginning quilters with solid cutting and stitching skills will enjoy this project just as much as more experienced quilters.
The runner, from designer Elaine Waldschmitt, is 44 1/2″ x 17 1/2″ once completed.
You'll find the "Rainbow Sherbert" runner pattern in Top it With a Runner, along with several other wonderful runner patterns.
Save