A Sunny 3D Wreath for Your Table
|
Participate in Annie's Sunflower Fold'n Stitch Challenge!
The Fold'n Stitch Wreaths have been immensely popular, and for good reason. They're easy to make, lend themselves to creative fabric choices, along with pretty additions, and are stunning once completed.
Now, there's a new addition to the line – a three dimensional sunflower wreath table topper. This layered wreath is designed so that a 3″ LED candle will fit in the center. A vase of flowers will be lovely as well, and you may have other creative ideas for displaying your wreath.
Notice how the wreath lifts up off the table, giving it more dimension than the other wreaths. The soft sunny colors make it perfect for summer.
Make it Up in Your Favorite Colors and Enter for a Chance to Win!
We can easily imagine it made up in other colors, as well. Poinsettia colors for the holidays come to mind, as do the vivid colors of Dahlias and Gerbera Daisies.
What colors will you use?
Once your wreath is complete be sure to send us a picture of it so you can be entered in our drawing (all the information is below).
The finished wreath is 11 1/2″ in diameter.
You'll need Bosal In-R-Form stabilizer to complete the wreath. Stabilizer in leaf shapes, perfect for this wreath, can be purchased along with the pattern.
The Sunflower Fold'n Stitch Challenge
Send us a photo of your wreath before midnight ET on August 1st, 2017 and you will automatically be entered to win a prize package for participating in Annie's Sunflower Fold'n Stitch Challenge.
Make yours from whatever colors and fabric styles you like best, take a good clear picture and email it to us here at Quilting Digest.
Three people selected at random will receive a package of prizes from Annie's, and a chance for their table topper to appear on the Quilting Digest website and to be featured on the Quilting Digest and Annie's Facebook pages.
We'd love to follow along as you stitch your own Fold'n Stitch Table Topper. Please post photos along the way to the Quilting Digest Facebook page (when you unpack the pattern, when you've chosen your fabrics, when you've got a few leaves done, etc.) and use the hashtag #AnniesSunflowerFoldnStitchChallenge.
Annie's is Supplying a Wonderful Package of Prizes
Three lucky winners will receive each of the following in their prize packages:
The digital version of the "Over and Under" table runner pattern.
A digital copy of Harvest Time Quilting.
The online class, "A Perfectly Pieced Border Sized for Any Quilt" taught by

Gyleen Fitzgerald.
1. "Over and Under" Table Runner Pattern
This lovely runner looks complex but is easy enough for beginning quilters. Make it up in your favorite colors to set just the right mood for your table. The finished runner is 20 1/2″ x 56 1/2″.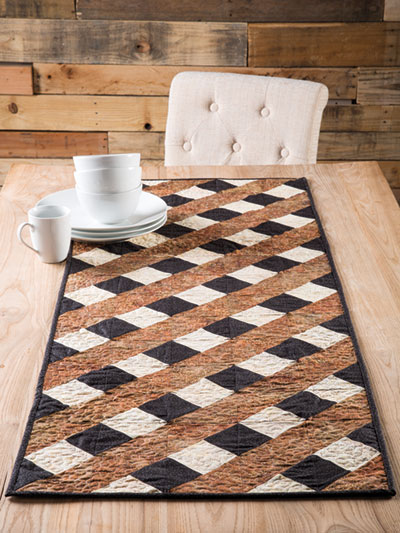 "Over and Under" table runner, exclusively Annie's.
2. Harvest Time Quilting by Chris Malone
You'll find several projects in this creative book to stitch up quickly for your autumn decor. All are easy to make and many can be completed by beginners. There are pot holders, table decor, wall quilts and more, with 21 projects in all. We see several we'd like to make ourselves!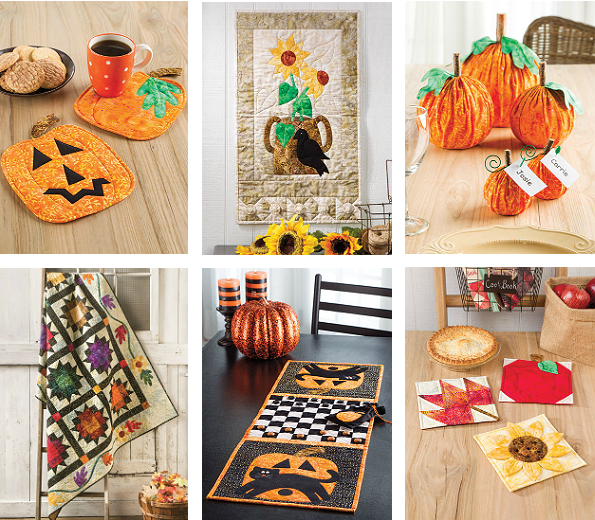 Some of the Projects You'll Find in Harvest Time Quilting.
3. "A Perfectly Pieced Border Sized for Any Quilt" taught by
Gyleen Fitzgerald
In this online class you'll learn how to make a scrappy pieced border AND how to fit it to any sized quilt. Watch how it's done, step by step, and stop and replay the video as often as you like. You'll have lifetime access and can refer to the instructions again and again. This is a wonderful finishing technique you'll be happy to have in your quilting repertoire!
Pictures of what you'll learn in the "A Perfectly Pieced Border Sized for Any Quilt" video class.
We think you'll agree that this is a wonderful package of prizes. Click here to learn more about all of them.
Here's How To Enter
Take a crisp, clear picture of your finished wreath nicely displayed on a table or in another appropriate setting. Make sure it is well lit (not so dark we have to squint to make out the colors, and not washed out from too much light – it's best to avoid using a flash). The picture must be at least 400 pixels in width (pictures taken with a phone or iPad are usually nicely lit and big enough). Send more than one photo if you like and we'll decide which one is best.
Mail the picture, along with your full name and contact email address, to quiltingdigest @ gmail.com (remove the blanks on either side of the @ to make it into a viable email address). Put "Annie's Sunflower Fold'n Stitch Challenge" in the subject line of the email.
Pictures must be emailed before midnight ET on August 1st, 2017.
Post your picture to the Quilting Digest Facebook page, which you'll find here, and wherever else you may want to post it. Use the hashtag #AnniesSunflowerFoldnStitchChallenge.
We look forward to seeing your Fold'n Stitch Sunflower creations. Have fun with the project and be sure to send us pictures! In fact, if you make more than one wreath, send photos of each.
Every completed Fold'n Stitch Sunflower wreath you submit will be included in the drawing. Make two wreaths and you have two chances to win!

Please Note: When you send us pictures, or post to the Quilting Digest or Annie's Facebook pages, you're also giving Annie's and Quilting Digest permission to use those photos in posts and articles relating to the Fold'n Stitch Sunflower Table Topper. Wherever possible we will be sure to give you credit for your submission.
Save
Save
Save
Save
Save
Save
Save
Save
Save
Save
Save
Save
Save
Save
Save
Save
Save
Save
Save
Save
Save
Save