Blue and Green Are Stunning in This Quilt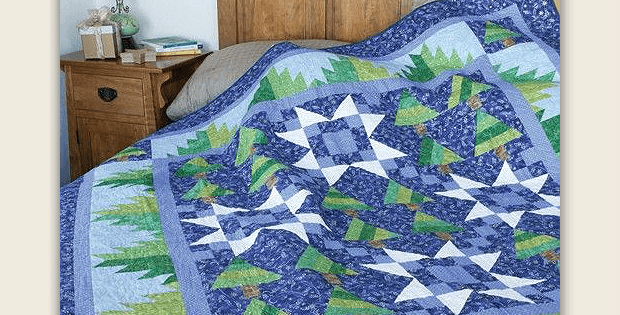 |
A Great Gift for Nature Lovers Too!
Trees, stars and delectable mountain blocks combine in a gorgeous quilt. Make this up for your summer cabin, to display at Christmas and to use all year around.
While the quilt looks complex, it's much easier to stitch up than you might think. Quick-piecing techniques make it go together relatively quickly.
The blue and green fabrics with white accents are stunning. Other color combinations will be just as nice. Consider Christmas colors, autumn golds and russets and your favorite color combo.
This is a beautiful quilt for nature lovers, too, and a gift they will treasure for years to come.
The quilt, by designer Abigail Dolinger, finishes at 80″ x 80″, just right for a throw or bed topper.
Save