A Charming Hearts Mug Rug for Your Table or Desk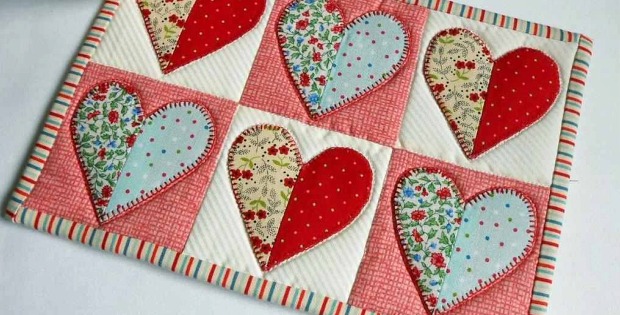 |
Vary the Fabrics to Make Yours Romantic, Traditional, Modern or Scrappy!
Mug Rugs are great little quilts sized just right for a mug and a cookie. Besides being lovely to look at, they're handy to have on hand for protecting a table or desk.
Because they're small, you can make several different designs to showcase on a wall. Choose one to use that fits your mood that day, and others for various occasions throughout the year. You can never have too many mug rugs!
This charming mug rug, from The Patchsmith, is the perfect reminder that all things thrive on love. Make one for yourself and one to give to someone special.
This little quilt goes together quickly with easy patchwork and quick fuse machine applique. You'll have fun digging through your scraps and using some of those favorite fabrics in this project.
You can easily change the look for the occasion and recipient by changing up the fabrics. You may want to make several to give throughout the year.
The finished mug rug is about 9.5″ x 6.5″.
Save