Choose a Gorgeous Print to Feature In This Quilt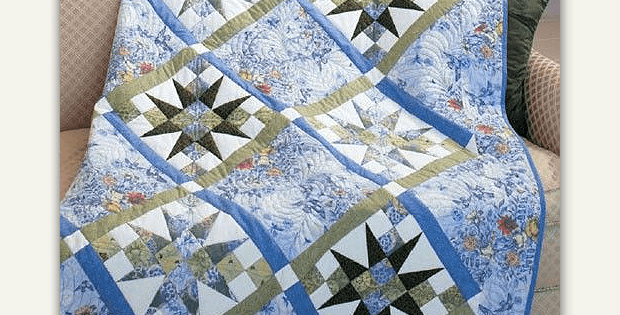 |
A Complex-Looking Quilt Easy Enough for Beginners!
A lovely sky-blue floral print is the basis of this beautiful quilt. Blocks in complementary green and blue with punches of black stand out beautifully from the background.
You'll have fun finding a print to use in your version. Choose one you love in your favorite colors, then select fabric for the blocks to match. This quilt will be stunning in bold coloring or stick with the softer garden colors to enjoy all winter long.
While it looks complex, this quilt will stitch up quickly. It's easy enough for beginning quilters with solid cutting and stitching skills. 
The finished quilt, by designer Patti Carey, is 59″ x 76″. Make it larger by adding more blocks.