Cozy Country Cabins Quilt Adds A Folk-Art Touch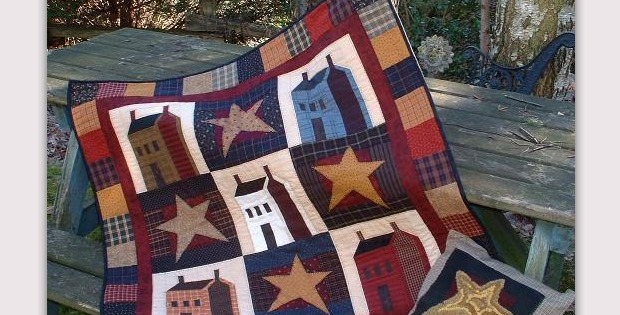 |
Pattern Includes Bonus Instructions for a Hooked Star Pillow!
It's hard to imagine what would be more charming than a quilt full of houses and stars. The only question is what "look" you'll give it.
We love the folk-art appeal of the subdued colors and plaids used in the quilt made by designer Country Quilts. We'd also love to see this pattern sewn up with bright, modern prints (something like this?). The entire look would change but it would be equally stunning!
The quilt is constructed of simple piecing and machine applique. It's a quick and easy project for even beginning quilters with basic skills.
The finished wall hanging is 36″ x 36″. There are bonus instructions for a 12″ square pillow with hooked wool star. If rug hooking isn't your thing, applique the star to match the quilt.
Save
Save