Cushion Your Chair with This Triangle Pillow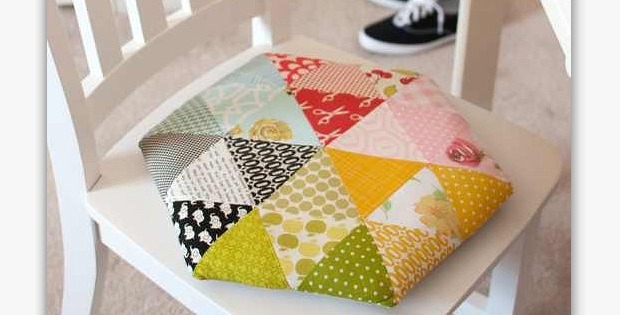 |
Make a Whole Set for Your Dining Area with These Super Easy Instructions!
Do you wish your chair had a softer seat? This pretty cushion is a nice way to add some padding with style. You'll love it for your sewing room, dining chairs and even for throwing in a large tote to take along to meetings and such.
Construction is simple and straightforward. The hexagon shape is achieved with triangles, so there's no difficult piecing. Cut and stitch together a series of color coordinated triangles, stuff with polyfill and you're done. It would be lovely made up in all one fabric, too, or choose coordinated prints or solids instead of this scrappy look.
The tutorial, from Retro Mama, includes a pattern for cutting the triangles. Instructions are given for adjusting the size to whatever fits your chair best.