Feature Large-Scale Prints in This Pretty Quilt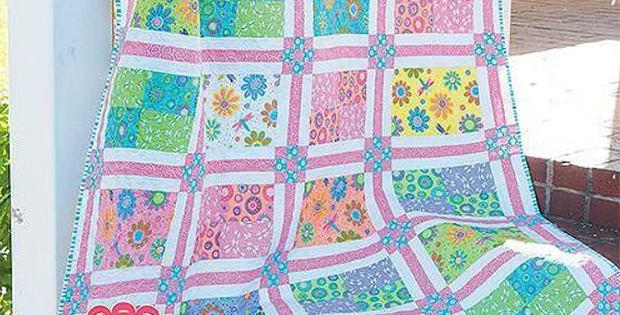 |
An Easy Project in Your Favorite Colors!
Pretty pastels and an easy pattern make a lovely quilt for spring. The lighthearted coloring is also lovely for a child's room.
Simple rectangular blocks are set off with pieced sashing strips and nine-patch cornerstones. Each element is easy to make. They all come together in a charming overall design.
This quilt is very versatile and will be wonderful in deeper colors and many different color combinations. We can easily imagine it in Christmas fabrics and the rich hues of autumn.
The finished quilt, from Me and My Sister Designs for It's So Emma, is 51 1/2″ x 66 1/2″. It can easily be made larger by adding more blocks.