Happy Hearts Mini Quilt for Your Wall or Table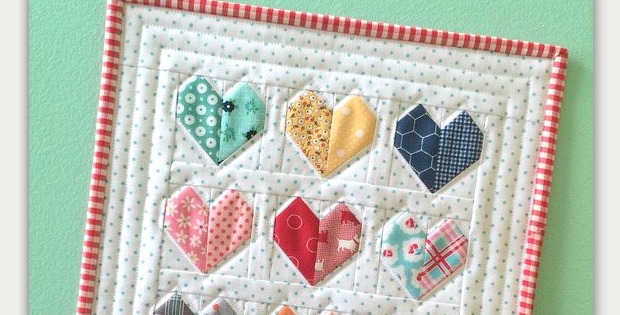 |
Heart Block Chart Makes it Easy to Increase the Size!
This charming hearts mini quilt is a quick and easy project for yourself, or for someone special. Use your favorite scraps, and make it as small or large as you like.
The original, by Lori Holt, uses the heart block included in her
"Farm Girl Vintage" quilt pattern.
Her finished mini quilt is 10″ x 10″, making it a quick and easy project for displaying or giving.
Lori's tutorial provides cutting instructions and guidance on making the heart blocks into a quilt.
If you've not made these blocks before, you may want additional instructions for their construction. Luckily, we found a great tutorial at Cluck Cluck Sew, which also includes a chart for several different sizes of heart blocks.
For a larger quilt than Lori's version, simply choose the desired heart block size from Cluck Cluck Sew's chart. Adapt the width of the sashes and borders to fit with the larger blocks.
Save