Make a Butterfly Baby Quilt from Scraps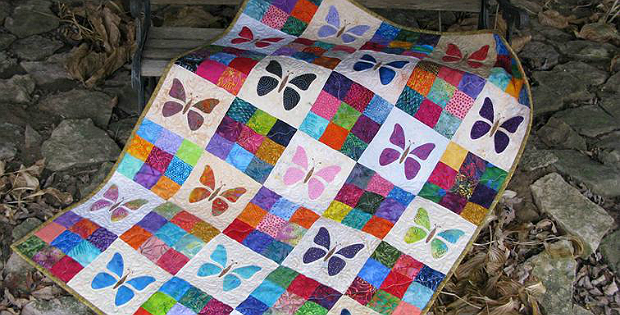 |
Easily Make This Larger for a Throw or Bed Quilt!
Richly colored batik scraps are so lovely in this quilt. The appliqued butterflies, also in batiks, add a charming touch.
This is a super easy quilt to make, even for beginners. Nine-patch blocks and fusible applique are easy, quick and yield lovely results.
Go through your stash and pull out batiks and mottled prints. Or, take the quilt in a different direction and choose small-scale prints for an equally charming look.
Another option is to choose a coordinated color scheme. We can imagine the quilt in slight variations of one or two predominant colors. Or, select 5″ charm squares from a beautiful fabric line for another kind of coordinated look.
The pattern, from Freemotion by the River, is for a 30″ x 42″ quilt. That's perfect for a baby or lap quilt. Add more blocks for a throw or bed quilt.