Make This Trees Table Topper for Holiday Cheer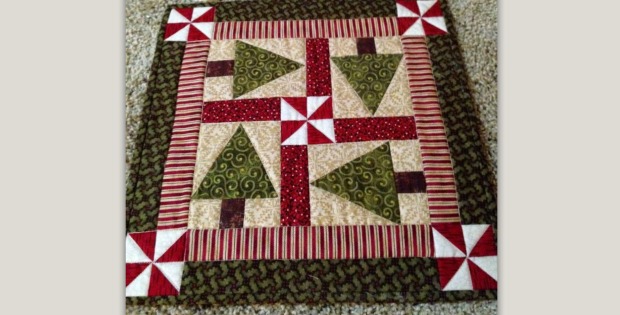 |
The Pattern for This Quilted Table Topper Has 3 Border Variations!
This cute little quilt for the holidays from Patchalot Patterns was designed as a table topper. It could be used as a wall hanging as well. We love the striped border fabric with the pinwheel corners. Together they give it a lot of pizzazz.
The pattern is free and comes with 3 border options. It's not hard to make and will sew up quickly. Stitch in the ditch machine quilting is all it needs, although you can do something more elaborate if you prefer.
This will look great in your home, but will also be a welcome gift.
Dig into your fabric stash. You may already have several suitable fabrics on hand. The quilt in this photo was made with one piece of green fabric used for the trees. The pattern shows the trees made with several strips of fabric, giving it more of a patchwork look.
The Tri-Recs Tool by EZ Quilting will speed construction, but you can also make and use your own templates. Learn more about this little quilt at Patchalot Patterns.
Save
Save
Save