This Happy Quilt is Perfect for a Baby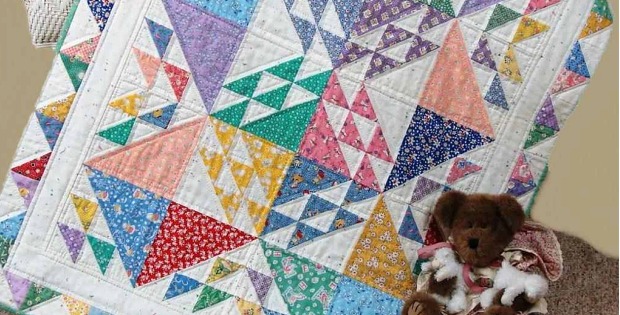 |
Patterns are Included for Crib and Queen Sized Quilts!
While this quilt is perfectly sized for a crib quilt, it would look fabulous on your table. Instructions are also included for a queen sized quilt, where the design will really shine.
The vintage patchwork look is so endearing, but we can easily imagine this quilt in coordinated colors, as well. There are so many possibilities! Make it for a new baby gift or size it up to fit your bed. Make it scrappy or coordinate the colors. Or, simply dig into your supply of fat quarters and start cutting. Whatever your choices, the end result will be a lovely quilt you'll be proud of having made.
The unusual overall design is made from just two blocks. Eight fat quarters make the top and the binding of the crib quilt, with no piecing needed for the backing.
The finished sizes of this quilt pattern by Pleasant Valley Creations are:
Crib size: 32″ x 44″
Queen size: 92″ x 116″
Save