Ribbon Star Mug Rug Can be Many Things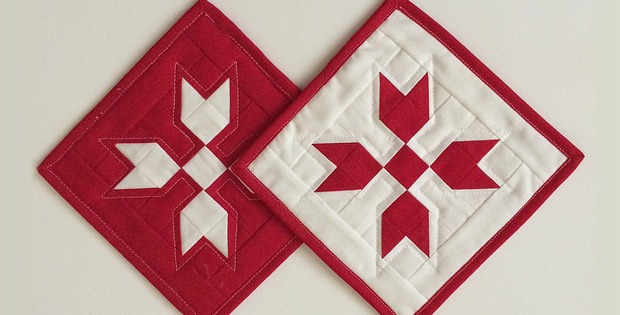 |
 What Color Will You Make Yours?
Red and white is always a striking color combination, but these little mug rugs would be wonderful made in any solid color. They'd be equally lovely made with small scale prints, as well.
The pattern is simple to sew together, making this a quick and easy project for quilters with basic skills.
There is one minor fix to the cutting instructions. Cut five 1 1/2 inch squares of the star fabric (not 2 1/2 inches, as specified – see the comments below the tutorial).
It looks like the little quilts will be about 5″ square when finished. That makes them perfect for mug rugs. But you could also put 4 or more blocks together and make a wall quilt or table topper. Sew two rows of blocks end to end and make a table runner. Or, enlarge the pattern slightly and make them into hot pads. There is so much you can do with this pattern!