Sherbet Colors Give Granny Blocks A Fresh Look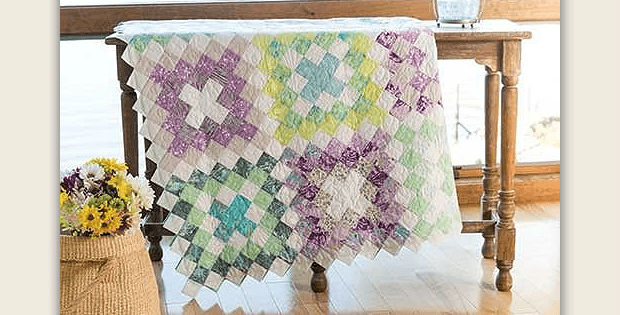 |
Other Colors Will be Just as Lovely in This Quilt!
An old fashioned granny square afghan is the inspiration for this beautiful quilt. Luscious batiks in sherbet colors give it a fresh new look that's perfect for spring.
Rather than having a binding, the quilt appears to be finished off with prairie points. They're a delightful touch of perfection for this sweet quilt.
While we love the soft colors, the quilt will be stunning in stronger ones as well. There are so many color options to consider. Black, dark charcoal or another background color against more vivid blocks would change the look entirely while producing a stunning version.
Or, keep the white background and use your favorite colors for the blocks. Whatever color choices you make are sure to be wonderful in this quilt.
The pattern, by Linda Fitch, is for a 60″ x 74″ throw quilt.
A kit is available while supplies last. Get it here.
Save