Ship Pot Holders Bring Summer to Your Kitchen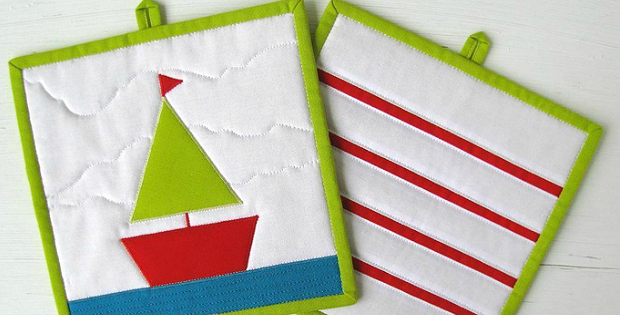 |
Two Pot Holder Designs Are Included!
Make up a set of these fun pot holders for your summer kitchen, or your boat's galley. The colorful ship makes us instantly think of sand and waves. The second, striped potholder reminds us of still water and sailor shirts. Together, these potholders simply feel like summer.
Choose colorful scraps from your stash and make the boats up in whatever colors catch your eye. Solids are perfect, although they'll be charming in small prints too.
These fusible applique potholders are quick to make, and are wonderful gifts, too. Anyone who enjoys the ocean, sailing and boating will love having one or more of these brightening their kitchen.
The pattern, from designer Anna Shein, is for two 7″ pot holder designs.