Soft Colors Make a Stunning Quilt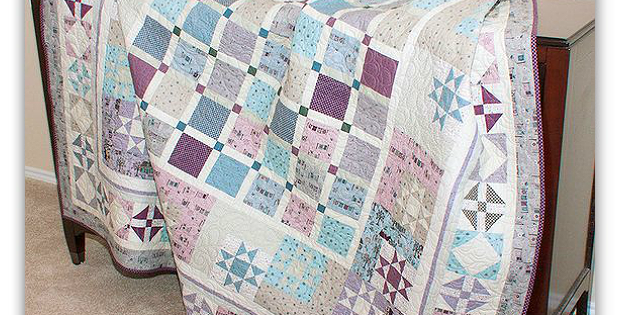 |
The Intricate Overall Design Adds to Its Appeal!
Soft fabrics in blue and lavender are what initially drew our eye to this beautiful quilt. The interesting design kept it there. A slow perusal reveals many things to enjoy.
Stars seem to sparkle against a frosty background, making this a lovely quilt to display during winter months – or all year long. The colors themselves are reminiscent of spring flowers, so this quilt is appropriate any time. Multiple pieced borders also contribute to the quilt's unique charm.
Select fabrics in your favorite colors for your own unique version. This is a wonderful project for taking advantage of the innate compatibility of fabrics from a single fabric line. Or, have fun creating your own palette of colors.
The pattern, designed by Wendy Sheppard, is for a 77″ x 77″ finished quilt.
Save
Save
Save