This Quilt Makes Beautiful Use of Sweet and Delicate Fabrics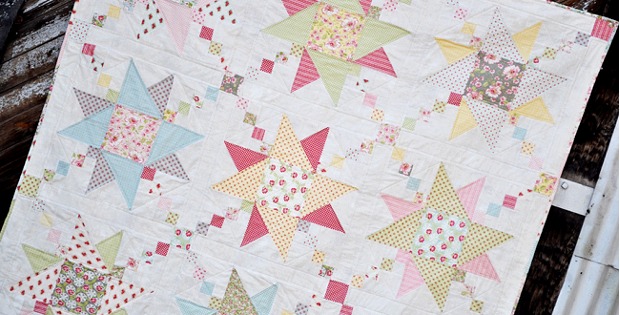 |
The Soft, Vintage Look of This Quilt is Simply Charming!
While bold quilts are gorgeous and have their place, the softness of this quilt captures the heart.
The small scale prints are from the Ambleside fabric collection from Moda. However, you can also choose prints you already have on hand, as soft or vivid as you like, and put your own stamp on the quilt.
The quilt, from designer Lindsey Weight for Fort Worth Fabric Studio, is simple to construct. Straight piecing of squares and triangles can be accomplished fairly quickly, even for new quilters with basic sewing skills. Straight line machine quilting finishes it off nicely.
We love the pieced border. It emphasizes the scrappy look and feel of the quilt.
The finished quilt is 64″ x 64″ and will be great as a throw on the bed or sofa.