Sweet Watermelon Quilt is Perfect for Summer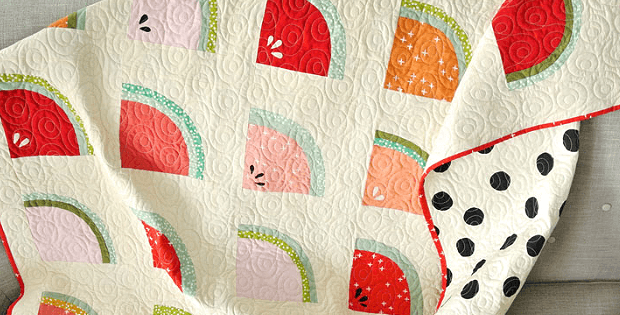 |
Use a Few Blocks for a Table Topper or Runner!
There's nothing quite like watermelons to evoke the feeling of summer. Warm sunny days, evenings on the porch, gardens full of flowers, fresh produce at the farmers' market, trips to the shore … it's all brought to mind by this playful quilt.
If you're a bit anxious about the curved piecing, don't be. The designer at Suzy Quilts has included a video showing you how simple it is to stitch curves freehand. If you prefer a more structured approach, the video here for easy curved piecing is sure to help.
Click here to learn more about this quilt and for the freehand curved piecing video.
Summer-weight batting is a natural choice for this quilt. You'll find tips for making a lightweight summer quilt here.
While we love the full quilt (56" x 65") we can easily imagine a few blocks made into a square table topper, stitched end to end for a runner or combined into a wall hanging. Have fun experimenting with this playful design!