These Pretty Coasters are a Quick Project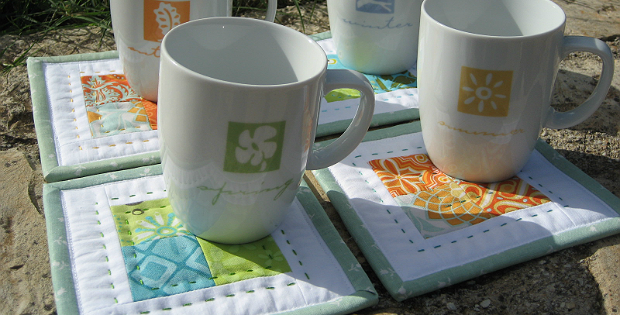 |
Perfect for Beginning Quilters!
Pretty scraps and easy piecing make these little quilts go together in a breeze. You'll have a set of coasters done before you know it.
Use them around your home or give them as gifts. You can easily change their personalities through fabric selection.
While the coasters are simple to make, they require all the steps needed for making a larger quilt. That makes them perfect for beginning quilters.
The excellent instructions walk you through every step. Once you have these little quilted coasters done you'll be able to move on to larger quilt projects.
Of course, experienced quilters will enjoy this quick project, too. It's perfect for a breather in between bigger projects.
There are two things to keep in mind when working through the tutorial. Measurements have a comma where you may be used to seeing a period. So, 1,5″ equals 1.5″.
Secondly, wadding refers to quilt batting.
The coasters, from Teje at Nero's Post and Patch I, are about 4″ square.
Save