This Pretty Quilt Makes us Think of Summer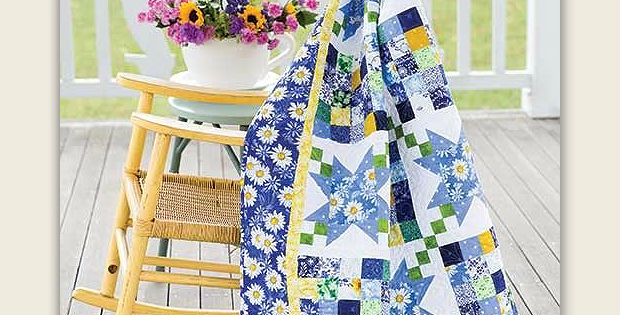 |
Build Your Version of This Quilt Around a Fabric You Love!
A beautiful print full of daisies inspired this pretty quilt. Colors were drawn from the daisy border print, making a charming and cheerful quilt.
Follow the designer's approach and select a beautiful print to use in the border and to set the color theme for your version. Just about any color combination will be lovely in this quilt. Simply coordinate around a print you love.
Patchwork squares, and stars made from Flying Geese blocks, make for simple stitching in this easy quilt.
While it's not required, the designer like to use the Jumbo Geese Ruler Set for her Flying Geese blocks.
The quilt, designed by Christine Stainbrook, is 45″ x 57″.
A kit is available while supplies last. Get it here.
Save