This Pretty Shoulder Bag is Perfect for Beginners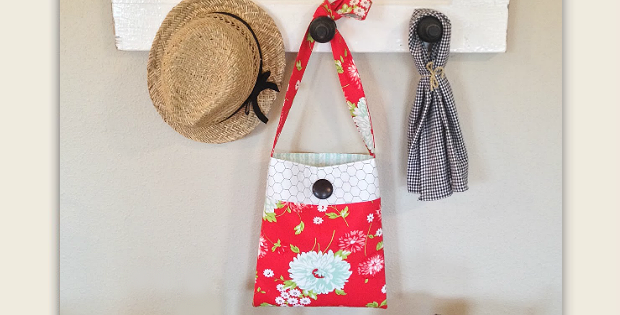 |
Help Someone New to Quilting or Sewing Get Started with This Easy Project!
Pretty flower-themed fabrics are so sweet stitched up into this charming bag. Fabrics in your preferred colors and styles will be just as lovely. Select a combination of 3 fat quarters and a beautiful accent button and you'll have this put together in just a few hours.
The easy construction and excellent instructions make this a wonderful project for a new sewist or quilter. If you know someone (of any age!) who wants to learn, this is a great project for teaching the basics.
We can easily imagine working with a youngster to complete this project, using their favorite fabrics. Older beginning quilters will love this too.
The finished size of the bag, from Taunja of Carried Away Quilting, is not provided but it appears to be about 10″ x 11 1/2″ without the strap.
Save