This Rose Pincushion is Charming and Handy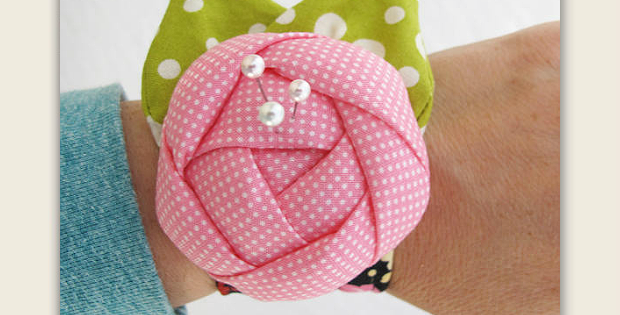 |
It's a Wonderful Gift for Your Sewing Friends, Too!
Keep your pincushion handy by strapping it around your wrist. Not only is this version pretty to look at, it can be adjusted to fit just right. Velcro holds it securely in place.
Dig into your scraps and pull out a pretty combination. The designer, Michelle at Michelle patterns, has made several beauties to inspire you (see more here).
The pincushion is not difficult to make but does require being able to sew accurately in small spaces.
The finished cuffs are about 8.25″ (21cm) long x 1.75″ wide (4.5cm). The rose is 2.25" (6cm) across.
Finished cuffs are also available for purchase. See them here.
Save