This Sweet Mug Rug is Perfect for Giving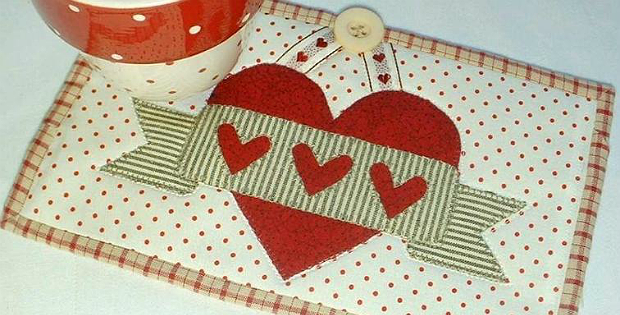 |
It's Just Right for Valentine's Day and Other Special Occasions!
Hearts signify love, of course, but also speak of home, family and enjoyment of life. This little mug rug is a wonderful reminder of those things the heart holds dear.
It's also a very quick project to complete. Add a bit of ribbon and a pretty button to fusible applique. They're the perfect finishing touches for this sweet project. Start now and you can have one finished in just a few hours.
This sweet little quilt is a great gift for someone special. You may want to make two while you're at it – one for you and one to give.
While it's large enough for a mug and a cookie, it will also be charming on the wall above your counter or desk. Just add a hanging ring to the back.
The mug rug, from The Patchsmith, is 9″ x 5 1/5″.
Save