A Variety of Flannel Fabrics Make a Charming Quilt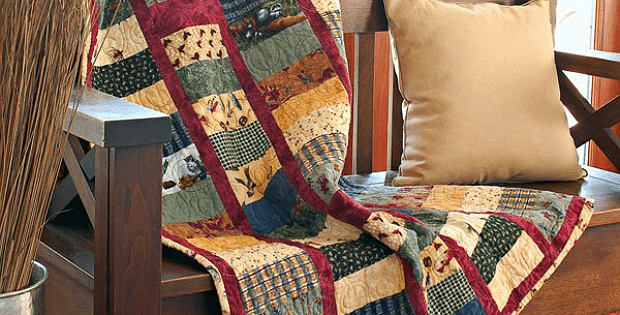 |
Beautiful in Cotton Quilting Fabrics, Too!
Cozy flannel fabrics in a variety of prints and colors combine beautifully in this snuggly throw quilt. Burgandy sashing pulls all the colors together, unifying the quilt.
This quilt will be lovely in regular cotton fabrics as well. Either way, choose a variety of prints to give the quilt interest. Then, choose a color to feature in the sashing and thin border.
If you do choose to use flannel, you may want to read our "Tips for Making a Cozy Flannel Quilt".
Simple construction makes this easy to finish up, even for beginning quilters. Experienced quilters will love how fast it goes together.
The instructions, by Mary Helen Schiltz , are for a 47″ × 70″ throw. Adjusting the size will be very easy to do.
Save
Save