An Easy Runner for the Holidays and Beyond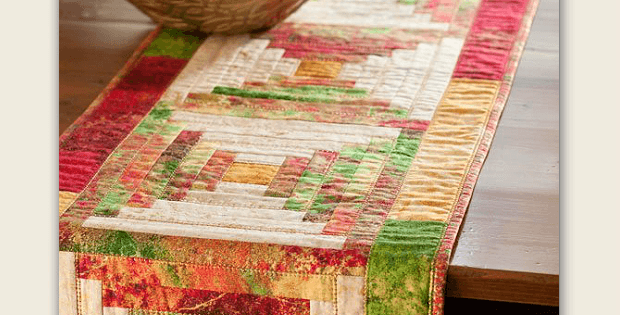 |
So Quick-To-Make That You'll Want One For Every Season!
Five Courthouse Steps blocks in cheery colors make a charming table runner for the holidays and all year around. This is an easy project even beginning quilters can stitch up quickly. While you're at it, make one to give as a gift to someone who enjoys and appreciates quilts.
Select mottled fabrics, such as batiks and subtle prints, in your chosen color scheme. The runner shown here, by designer Kat Tichenor, was made up in bright reds, golds and greens for Christmas.
This will also be charming in whatever color combination you prefer. Consider fall russets and golds, light spring fabrics, and colors that match your decor.
The finished runner is 17 1⁄2″ x 65 1⁄2″.
Save