Classic Colors Make a Sweet Topper for Your Kitchen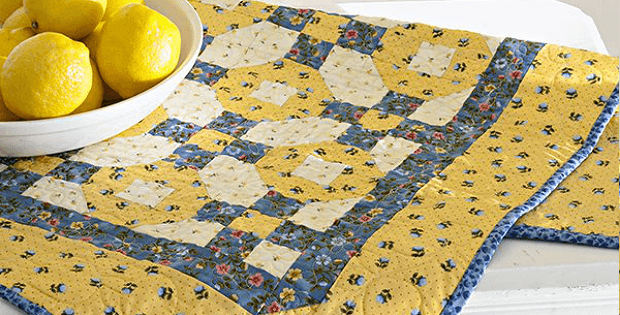 |
Add More Blocks for a Lap or Bed Quilt!
This charming quilt evokes the feel of sunny days and fresh warm breezes. It also makes us think of one of our favorite treats – lemon bars. We'll love having this to display on our kitchen table.
Yellow and blue is always a favorite color combination. It's so lovely and refreshing in this little quilt. However, the quilt will be just as charming made up on your favorite color combination.
Easy snowball blocks and nine-patches create the overall design. Half-square triangles and squares sew together quickly. You can speed up the process even more by using this method for making 8 half-square triangles at a time.
The finished quilt, by Roseann Meeham Kermes, is 37 1⁄2″ square.
Save
Save