Create a Classic with This Easy Pattern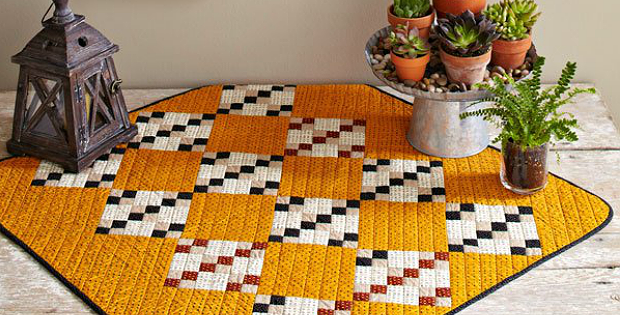 |
It Will be Lovely in Other Colors as Well!
Cheddar quilts are a long time favorite among quilters, and for good reason. The gold color is simply stunning, especially when mixed with black, red and white as in this quilt.
Easy blocks set on point and rounded corners add to the quilt's considerable charm. Four-patch blocks and squares combine into nine-patch blocks. They make for easy stitching and a quick project. Just be careful not to stretch the bias edges on the outside triangles (starch
will help).
Of course, this pattern will be lovely in other colors as well. Choose whatever you like best for a lovely interpretation of this wonderful pattern.
The finished quilt, by Diane D. Knott, is 34 1⁄2″  × 35″. It will be lovely on your table or given as a special gift.
Save