Make a Sweet Mini Quilt from Leftover Strips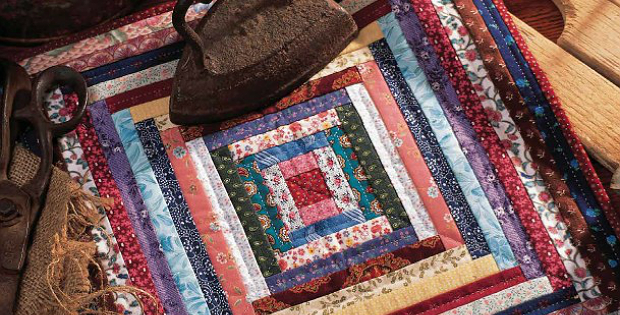 |
Increase the Width of the Strips for a Larger Quilt!
Leftover skinny strips, the more variety the better, come together beautifully in this little quilt. Use it as a table mat or display it on a wall to add a heartwarming touch to your decor.
The quilt is essentially one Courthouse Steps block, with strips added opposite each other to build out the block. It's a great project for those skinny scraps that are often hard to use up.
Because of its small size, you may prefer to paper piece this for accuracy. Standard piecing also works, although you may want to spray starch the strips for easier construction.
The mini quilt finishes at 13″ x 13″. Use wider strips for a larger little quilt. We've even seen large throw size quilts made from this method – just increase the width of the strips.
The pattern for this "Miniature Courthouse Steps" quilt is included in The Best of Scrap Quilting Made Easy. There are many other beautiful projects in the book that caught our eye as well.
Save