Patchwork Star Ornaments Are Quick and Easy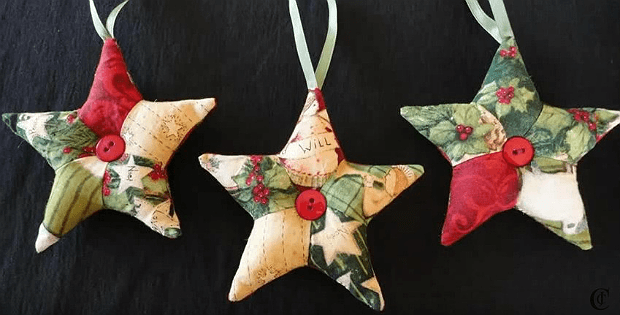 |
These Will be Wonderful in Many Color Combinations!
These patchwork star ornaments are easy to make and super charming. Depending on how large you make them, they can be hung on a tree or just about anywhere around the home. They will also be lovely attached to wrapped gifts, stuffed into stockings and wrapped up as gifts.
Choose a variety of fabrics to work with in coordinating colors. Make each star different or make them all the same. We can easily imagine them made in just about any fabric style and color combination, giving them many different looks. Pretty buttons add a nice decorative touch.
The following video by Crouton Crackerjacks shows you exactly how to make your own.
You'll need a template for the star shape. To create the same size as demonstrated in the video, the sides of each star point should be about 2″ when printed. You can also trace the templates right from the screen.
Facebook links sometimes change so if that link no longer works go to this Facebook page, find the tab or link for "Photos", then click on the "Templates" album. Click on each pattern piece to enlarge it for printing.
Save