Pretty Fabrics Make a Lovely Spring Quilt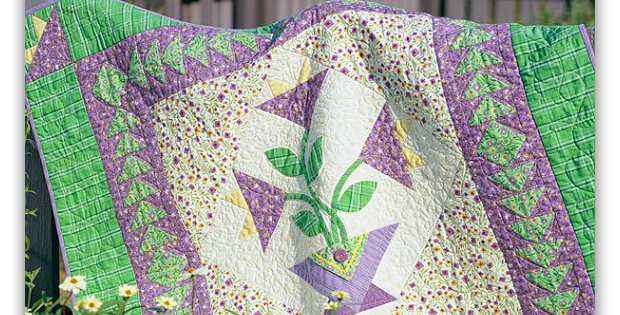 |
Choose a Beautiful Color Combination for Display All Year!
Easy piecing, a bit of applique for curves, and button and rick rack accents come together in a lovely quilt. Display it on a wall, a table or even give it as a baby quilt.
The fresh colors are perfect for spring. Or, choose your own color scheme for a quilt to display all year long. A plaid and a stripe add extra charm to small floral prints. This will be stunning in batiks, too, while taking on another personality.
While the pattern specifies hand applique, you can easily convert it to fusible applique. Follow the instructions for creating the stem pieces, stitch them down and add the leaves cut without seam allowances.
The pattern, by designer Kim Gillilan of Sugar Pine Designs, is for a 36 1⁄4″ square quilt.
Save