Random Hearts Make a Charming Quilt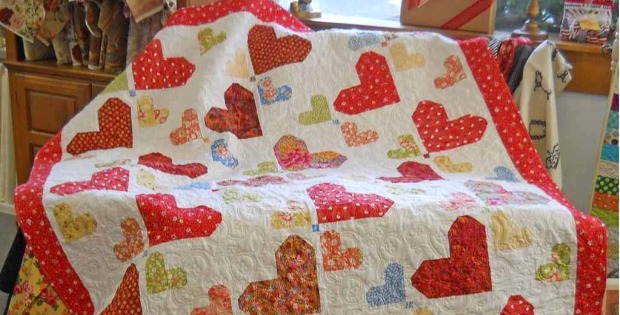 |
Instructions Also Included for a Table Runner!
This quilt has such a carefree young-at-heart feel to it. You'll love having it in your home, or to give to someone special as a gift (a wedding gift, perhaps?).
While we love the cheery reds, this quilt would be wonderful in other colors as well.
Two heart blocks make up the design with narrow white sashing in between. You can use the blocks in other projects as well, such as the table runner included in the instructions.
The finished quilt, by Ladylike Designs, measures 54″ x 73″. It wouldn't be hard to make it into a bed-sized quilt by adding another row of heart blocks or wide decorative borders.
You can also make a smaller quilt for your table or wall by deleting some of the blocks.
Save