Rich Pumpkin Spice for Cool Weather Snuggling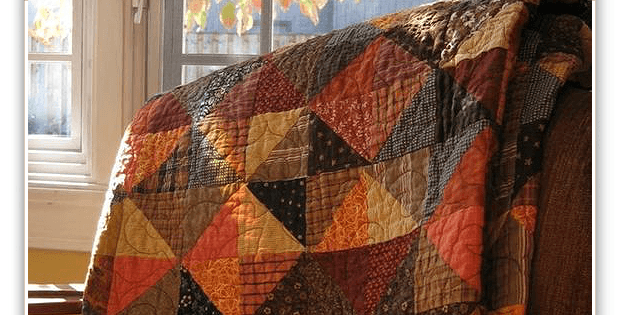 |
A Super Easy Quilt to Make!
This cozy scrap quilt is so charming made up in pumpkin spice colors. Dig into your stash and pull out a variety of rich colors to combine in your own version. Reinforce the autumn theme with a burnt orange inner border and a plaid finish.
Scraps, fat quarters, charm packs and yardage will all work with this pattern. Flannels would make it extra cozy.
Or, go with entirely different colors. Consider fabrics for other seasons, as well as your favorite color combination. This is so easy to make that you may want to make more than one.
The designer, Karen M. Walker from Laugh Yourself Into Stitches, provides instructions for speeding construction by making eight half-square triangles at a time. No bias seams are involved, making this a super easy project.
The finished size of this quilt is 52 1/2″ x 64 1/2″. It's easy to make it larger, if you want. Just add more half-square triangles.
Save