This May be the Ultimate Scrap Quilt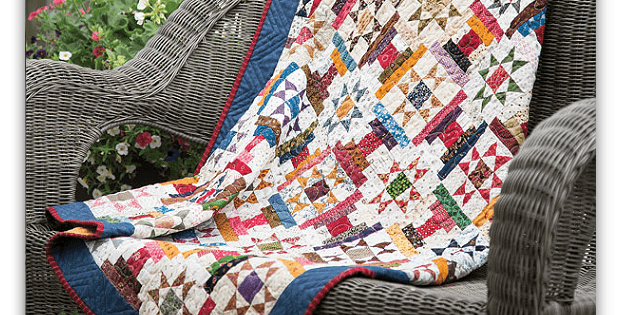 |
Pull Varied Scraps Together with the Border Color!
Two traditional blocks, a star and Courthouse Steps, combine an an intriguing quilt. The quilt is even more interesting when made entirely from scraps.
The designer, Diane Tomlinson, patterned the quilt after an antique she found. Her version retains all the charm of the antique quilt while being easier to make. She simplified construction to make it not only easier, but to also stitch together more quickly.
This quilt is a wonderful project for using up scraps, leftovers and other fabrics from your stash. Fat quarters work well with it, too. Give it a color scheme or not. The border fabric will pull everything together.
The finished quilt is 63″ × 81″. You can easily make it larger or smaller by adjusting the number of blocks.
Save