Vibrant Color Makes a Sizzling Quilt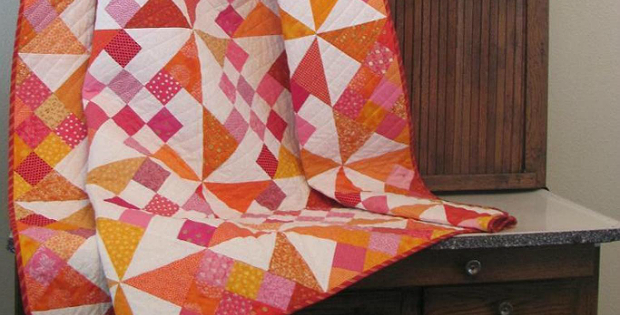 |
Blues Will be Stunning for a Cool Version!
Pull fabrics of one predominant color out of your stash for a sensational quilt to display just about anywhere. The varying hues of orange chosen by the designer, accented with reds and pinks, make the quilt sizzle with vibrant color.
A combination of blues, or whatever color you like best, will be just as wonderful. Keep the patches close in value for the most impact against a neutral background.
Add interest by pulling in a few fabrics sitting next to the predominant color on the color wheel. In this case, red (and pink, which is light red) adds interest to the oranges. For blue, that would be either violet or green, depending on which direction the blues are taking. For example, blue, blue-green and green will be a stunning cool version of the hot oranges and red.
The finished quilt, from Carolyn Design, is 66 1/2″ x 77 1/2″.
Save