Wrap Someone You Love in This Big Bold Heart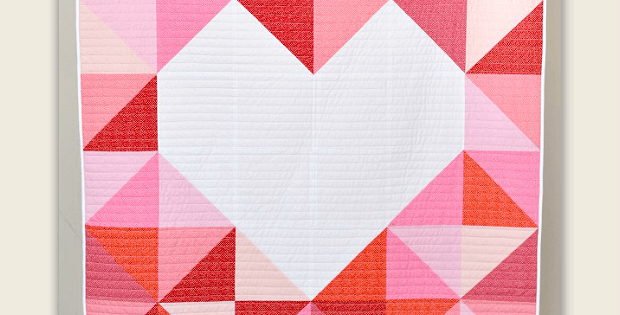 |
Change the Finished Size by Altering the Size of the Half-Square Triangles!
Show someone you love exactly how you feel by wrapping them in this big bold heart quilt. Display this stunning lap quilt every year for Valentine's Day, too.
The quilt also makes a beautiful gift for newlyweds, wedding anniversaries and for your favorite kids.
The quilt goes together quickly, even for beginning quilters, with large half-square triangles. The designer, Nicole from Modern Handcraft, chose a variety of small polka dot fabrics that almost read as solids from a distance. 
Just about any fabric styles will work in this quilt. Big prints, small prints, batiks – have fun making this pattern uniquely yours by selecting your favorite fabrics.
Ten inch layer cakes squares are perfect for the half-square triangles. For a smaller quilt, use smaller fabric squares. The construction will be the same.
The finished quilt is 54″ x 62″.