Crochet Makes This Quilt Extra Special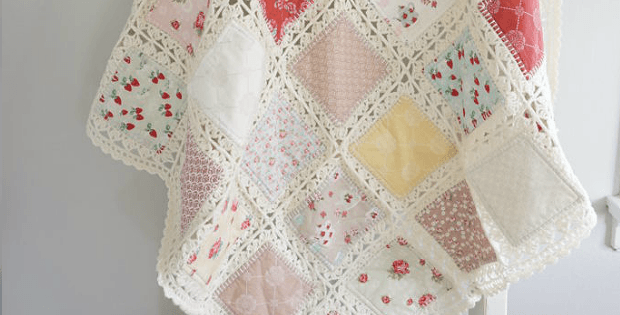 |
Full Instructions Are Provided, Even for the Crochet!
Pretty fabric squares and crochet combine for this beautiful quilt. Or blanket. Or tablecloth …  It's hard to know what to call this lovely creation!
Regardless, it's a beautiful piece that's sized for a baby blanket. It also will be gorgeous draped over a table or across the back of the sofa. Or, make it larger and display it on your bed over a solid colored bed spread.
Anyone with basic sewing and crochet skills can make this quilt. Or, team up with a crocheting friend and make one for each of you. You do they sewing and your friend can help with the crochet.
The wonderful tutorial provides great instructions for the entire project, including the crochet. Videos make it extra easy to see how to put it together.
The finished quilt is approximately 44″ x 44″.
Save