Fabric Selection is Easy for This Pretty Quilt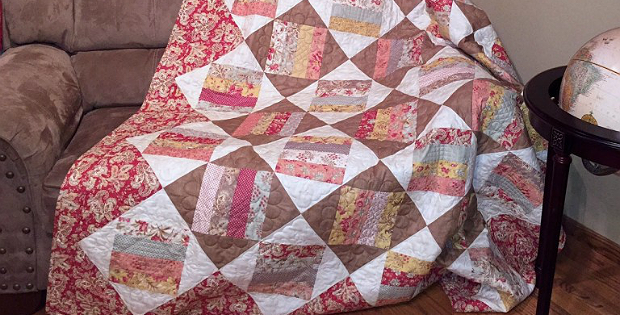 |
Start with a Jelly Roll and Build from There!
Strips from a jelly roll, plus a light and a dark for the hourglass shapes, come together in a lovely quilt. You'll enjoy this beauty anywhere around your home, or make it up to give.
It's a simple quilt to make but you'll need to be careful not to stretch the bias edges on the triangles. Even so, it will stitch together fairly quickly.
Select a favorite jelly roll to get started, choose a complementary border fabric, then decide on a light and a dark to tie everything together. This quilt will be beautiful in any coordinating color combination.
The pattern, from Deborah Jacobs of Gathering Friends Quilt Shop, produces a 69 ½" x 85 ½" quilt.
Leftovers from making the quilt can be used in a pretty table runner (get info here, or scroll down under the quilt instructions in the link below).
Save
Save