Gather Up Your Scraps for This Stunning Quilt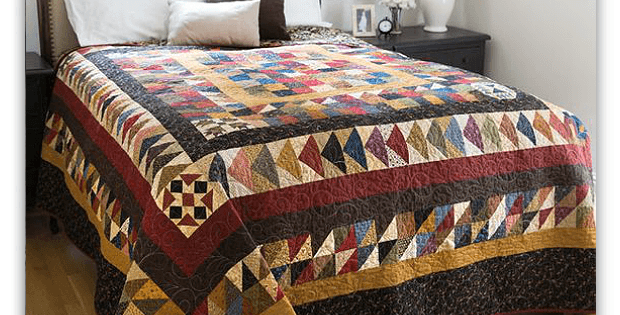 |
Produce an Heirloom Quilt to Pass Down for Generations!
Rich colors and intricate piecing make a stunning quilt. You'll be happy to display and use it for many years to come.
You may already have enough scraps on hand for this quilt. You can also purchase pre-cuts and yardage in a wide variety of colors and fabric styles to give it a scrappy look.
Flying Geese blocks and triangle squares make the piecing easy for this quilt. It is a complex pattern, however, so it will take longer to complete than simpler quilts. Take your time and enjoy the process. In the end you'll have an heirloom quilt you'll be proud to pass down for generations.
The pattern, from designer Lynette Jensen, produces a quilt of 114″ x 120″.
Save