Lighthearted Colors Create a Charming Quilt
|
Play with Color Selection to Give it Your Own Special Touch!
Beautiful fabrics in aqua, magenta and green create a beautiful quilt you'll be happy to call your own. A bit of white is the perfect accent and gives the quilt a lighthearted feel.
Of course, it will be lovely in other colors, as well. We suggest selecting a border print to draw the three predominant colors from for easy coordination.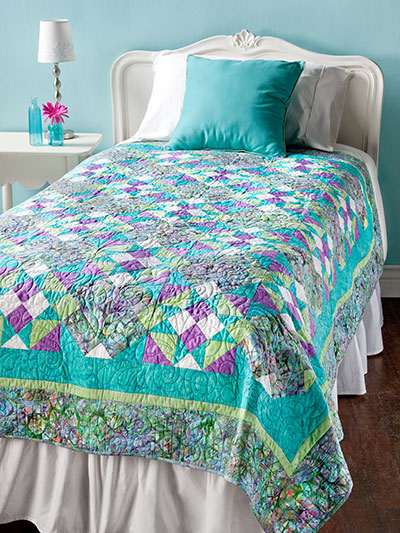 This quilt was originally presented as a mystery quilt by Quilter's World. Consequently, the pattern is appropriate for quilters of all skill levels.
It was inspired by Susan Mallery's Fool's Gold romances and was stitched by Carolyn Vagts.
Once completed, the quilt is 66″ x 84″. It will be easy to add more blocks for a larger quilt.
Scroll all the way to the bottom of that page for the complete instructions in one PDF.
Save