Sunburst Table Topper Brings the Sun Inside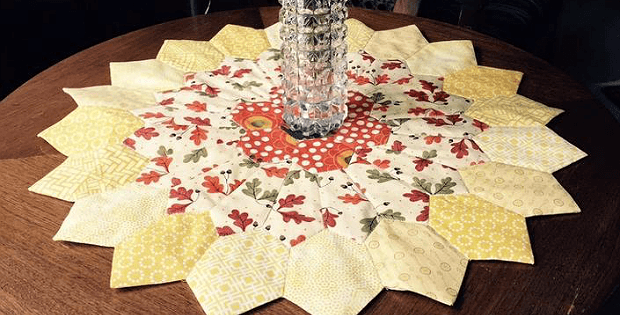 |
This Will Be Charming In Your Favorite Colors, Too!
Hexagons and Dresden Plate blades combine to make this unique and sunny table topper. Inspired by sunflowers, it's a wonderful little quilt to display on a table during warm weather months. Or, go ahead and leave it out all year around. You're sure to enjoy this cheerful sunburst during gray and chilly days.
Colorful fabrics flow from a brown center to golden rays around the outside, capturing the essence of the flowers it was inspired by.
You can have fun with this and choose fabrics to mimic other flowers as well. Or, make it up in colors that match your decor. It will be a charming topper in whatever colors you choose.
This is a relatively quick little project, although there is some hand stitching involved. The effort is worth it, as when you're done you'll have a wonderful topper for a small round table or for the center of a larger one. This will also be a great gift for anyone who enjoys flowers and quilts.
The pattern by 2strings is for a table topper that is 18″ in diameter.
Save
Save
Save