These Butterfly Charm Blocks are So Sweet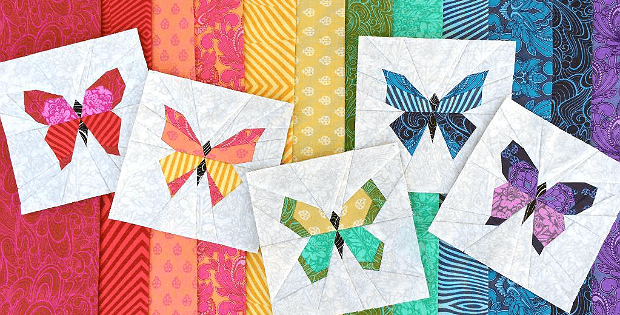 |
Combine Several Into a Larger Quilt, or Showcase One in a Small Project.
Mix these little butterflies with charm squares for a quilt of any size. A few blocks will be lovely in a table mat or small wall hanging. Use more for a baby quilt or lap quilt.
You could even showcase one pretty block in a mug rug, candle mat, tote bag or other small project.
The blocks, by designer Lillyella, come in three designs and are paper pieced. If you haven't tried that before, this is a good project to begin with. The excellent video in our article, "Foundation Paper Piecing Made Easy", will help you get started.
Dig into your scrap bag and before long you'll have your own sweet butterflies for incorporating into a project. We especially like Lillyella's rainbow butterflies, but they will be fun and charming in any color combo.
The blocks are 5.5″ once pieced. They can be trimmed to 5″ for combining with 5″ charm squares.