These Chicks are Full of Personality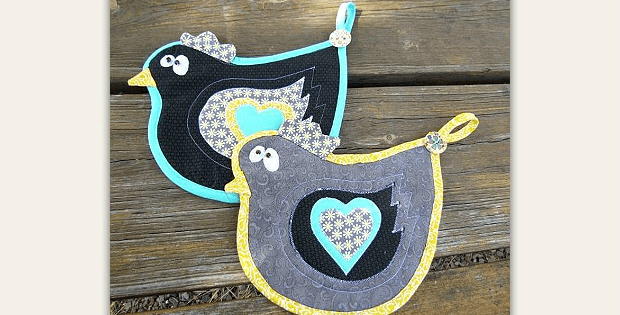 |
Make Up Extras of These Fun Hot Pads to Give as Gifts!
These whimsical pot holders are a wonderful gift for anyone who likes chickens. They will be charming in your kitchen too. The chickens have a bit of a goofy look in their eyes, making them all the more appealing.
The pot holders are easier to make than it may seem at first glance. Fusible applique makes them a quick project.
Dig into your stash and pull out fabrics you'll love having in your kitchen. Make them bright and fun or choose grays, as shown here, with your favorite accent colors. Just be sure to use a medium  to dark color for the body so the eyes stand out.
A layer or two Insul-Bright batting (find it here) is perfect for heat proofing your hot pads.
The pot holders, from Suzy's Premium Patterns, are 11.5″ x 7″.
Save