This Pretty Bag is Dressed Up with a Flower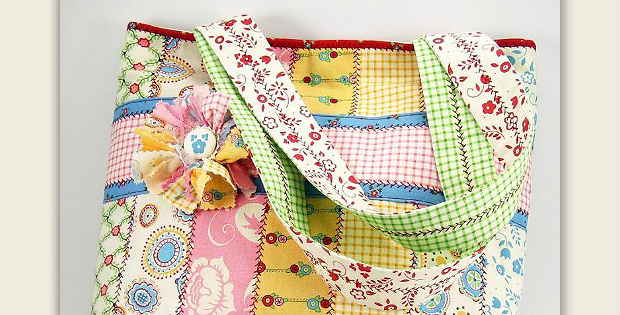 |
The Fabric Flower Pin Can be Worn on Your Lapel, Too!
Jelly roll strips come together beautifully into this lovely bag. The top stitching between strips is a pretty finishing touch.
The bag is all dressed up with an easy-to-make fabric pin. You can use this pin anywhere, not just on the bag.
Select a combination of 2 1/2″ jelly roll strips for the bag itself. They can be leftovers from your stash or select strips from a coordinated line of fabric. The bag will be lovely in various colors and fabric styles.
The bag has two interior pockets and a magnetic snap closure. It is lined with pre-quilted fabric or make your own.
The finished tote, from Sunday Girl Patterns, is 11″ H x 13″ W x 2″ D.
Save
Save