Simple-to-Make Butterflies Dance on This Quilt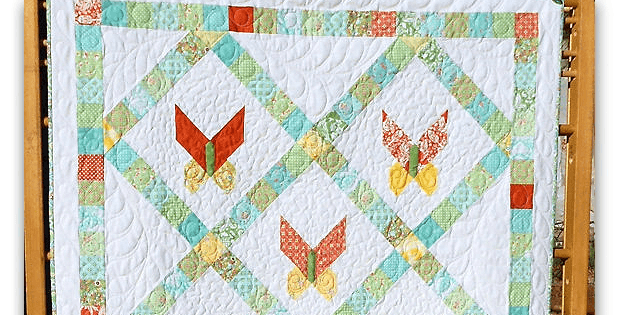 |
This Will be Lovely in Many Color Combinations!
Turn jelly roll strips into colorful butterflies for this lovely quilt. The simple piecing of both the blocks and the sashing means you'll have it done in no time.
You can also use leftover 2 1/2″ strips for a scrappy look. Or, give the quilt a more coordinated look by choosing a few gorgeous fabrics that work well together.
Consider changing the background, too. We can easily imagine this with vivid butterflies on a black background, and softer ones on a background that's sky blue.
The pattern, by Little Louise Designs, will be a welcome gift for a new baby. It's large enough for a lap quilt, too. A table runner pattern (or changing pad) is included.
The finished quilt is 42″x 59″. Use fewer blocks for a wall quilt or table topper. Add more blocks to make this up for your bed.
Save